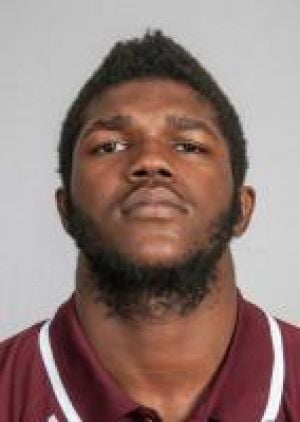 Texas A&M DB Kennith Marshall's mugshot.
From the "things Kevin Sumlin doesn't need to hear right now" department comes news that Texas A&M has suspended freshman Kenneth Marshall after the defensive back was
arrested
on Tuesday on charges of "possession of marijuana and prescription pills."
The arrest comes from the results of a search by College Station, Tx. police of Marshall's apartment on Oct. 7. The police found "marijuana in a glass jar, a digital scale and plastic bags," along with 32 pills of the antidepressant Buproprion in an unmarked brown pill bottle.
Marshall was not at his apartment at the time of the search, and wasn't arrested until Nov. 5. He was released on $8000 bail. He faces charges of "possession of marijuana between 2 and 4 ounces, and possession of a dangerous drug."
Marshal, who has not had any playing time in the 2013 season, was already on probation after pleading guilty for "possession of less than 2 ounces of marijuana in March.
(via
The Bryan-College Station Eagle
. HT:
College Football Talk
)