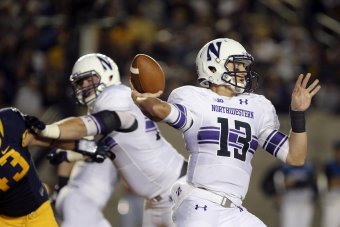 What did former Northwestern starting quarterback Dan Persa have to think about the Wildcats'
44-30 victory over Cal
last Saturday? Writing for
HuddlePass
, Persa
shared his opinions
on the team's performance.
Naturally, Persa had some thoughts about the performance of Northwestern QB's Kain Colter and Trevor Siemian.
"Most NU fans' hearts sank when they saw Kain (Colter) come out of the game, but there is no backup QB more capable than Trevor (Siemian), and he displayed that on Saturday night. The beauty of the spread offense is that it can be adapted very quickly and easily to whoever is at the helm. With Kain at QB, our offensive strength lies in the option and zone read attack. With Trevor, the strength lies in the passing game. This is not to say that either QB cannot do both, but depending on the QB in the game you can expect the play calls to reflect their strengths."
Persa also said that Siemian "played efficiently and managed the flow of the game very well" despite two interceptions." He also says "It will be interesting how the coaching staff manages the QB situation," a lot of which will depend on the health of Colter, who left the game with a concussion.
(via
HuddlePass
)