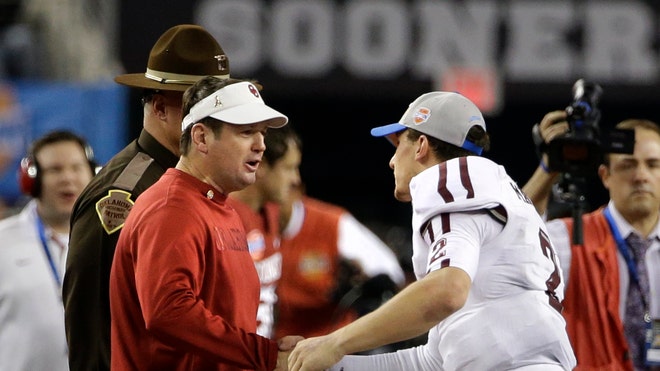 Bob Stoops congratulating Johnny Manziel after Cotton Bowl.
It's been a little over four months since Oklahoma got it's clock cleaned in the Cotton Bowl by Texas A&M and a certain Mr. Football. You would think that would be enough to make the Sooners' head football coach acknowledge the superiority of the SEC over the Big 12*. Well, apparently
it hasn't
. At a Sooner Caravan stop in Tulsa, Stoops went on a rant where he denied that the SEC was better than the Big 12.
"So you're listening to a lot of propaganda that gets fed out to you," he said. "You're more than smart enough to figure it out. Again, you can look at the top two, three, four, five, six teams, and you can look at the bottom six, seven, eight, whatever they are. How well are they all doing?

"What'd we (the Big 12) have, eight of 10 teams in bowl games this year? Again, you figure it all out."
Actually, the Big 12 had nine out of ten teams go to bowls in 2012. (It sucks being you, Kansas). The SEC had eight out of 12. That's not including Alabama, which won the BCS title game. So that makes everything about equal.
Of course, all of the SEC's bowls were all on Dec. 31 or later, while five of the Big 12's bowl teams got to spend their New Year's doing something other than playing football.
The overall postseason conference bowl record: SEC 6-3 Big 12 4-5. The SEC didn't lose to any C-USA teams, either (hi, Iowa State!).
Stoops may need to rethink his position about the SEC not being farther ahead of the Big 12 and the other conferences. Especially before the Sugar Bowl becomes an SEC vs. Big 12 game.
*Yeah, the Aggies just defected to the SEC from the Big 12 last season. Details, details...
(via
The Tulsa World
)