News hit the internet yesterday that Michigan head football coach Brady Hoke, who constantly refers to the Wolverines' number one rival as "Ohio" instead of "Ohio State," flubbed up and
accidentally said
"The Name That Must Not Be Named"
in front of reporters
at the Sound Mind Sound Body football camp in Southfield, Mi.




"Hoke, answering a reporter's question about the Buckeyes' recruiting in our state, said: "I'm not at Ohio State. I have no clue. I know we're going to work hard at it and do our best and find the right mold that we need for Michigan."
Here at last
is the proof. Hoke says the accursed words "Ohio State" at or around 3:47.
Gee, what could have cause Hoke to screw up like that?
Hanging out too much
in Southfield with Urban Meyer, maybe?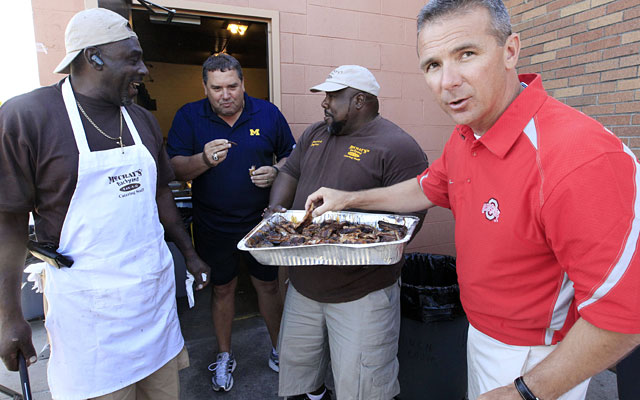 Maybe Meyer put something in those ribs when Hoke wasn't looking.
(via
The Detroit Free Press
,
Land Grant Holy Land
)