Lil' Red learns of alternate unis in 2012.
Be afraid, Husker Nation. Be very afraid. Nebraska athletic director Tom Osbourne has announced that Adidas is working on what is being called
a "futuristic" alternative uniform
for at least one game in the 2012 season.
"What will the uniforms look like? Osborne said he didn't know yet. In his first interview with The World-Herald on Monday, he said Nebraska resisted all changes to the white helmet with the thin "N" logo — Osborne believed that a black helmet had been proposed.

"We said, 'No, not gonna do that,' " Osborne said.

But he called back a few minutes later, saying he couldn't confirm that the helmet would stay exactly the same."
While the alternate unis will probably not be as outlandish as the now infamous
"Garth Brooks on acid"
uni that Under Armour came up with for Maryland in 2011, there is call for concern. Adidas really doesn't do alternate unis very well. See
the "retro" unis
the company came up with for Michigan last season as an example. Better yet, remember that Adidas was responsible for the retina burning, neon-tinted nightmares that Louisville and Baylor wore in the recently competed NCAA men's basketball tournament.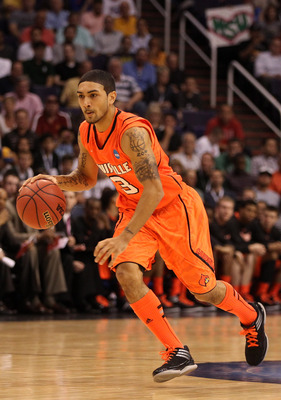 You've been warned, Husker fans. Hide your kids, hide your wife, and hide Lil' Red too.
(via
The Omaha World Herald
. HT:
Corn Nation
)