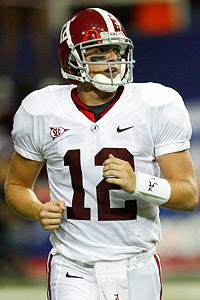 Now that
Ryan Mallett
has safely been put in the pretender's category, it looks like Alabama's Greg McElroy is next SEC Quarterback De Jour. And honestly, McElroy has a good argument with being first in the SEC in passing, and third in the nation.
Dr. Saturday's Matt Hinton
is already propping up McElroy with a rundown of his stats and his apparent deep-threat passing abilities. Certainly Alabama's record helps McElroy's case. The Tide has a victory against Virginia Tech. The true test will be if the Tide gets to the SEC Championship in December, where a showdown with Florida is in all probability on the the horizon (yeah, like Georgia's gonna be there. Child, please).
Still, McElroy hasn't shown the kind of larger than life aura that Tebow has (I said aura, not halo. Shut up). He's flown most of the season under the radar. It will take a major game to bump up his national status. And the Heisman is probably not in the picture this year, with Tebow and Colt McCoy being the top contenders. Still, McElroy and the Tide may well be the one team that spoils The Gators perfect season. But that's a great big "may." The season's still young any many a missteps are still out there.