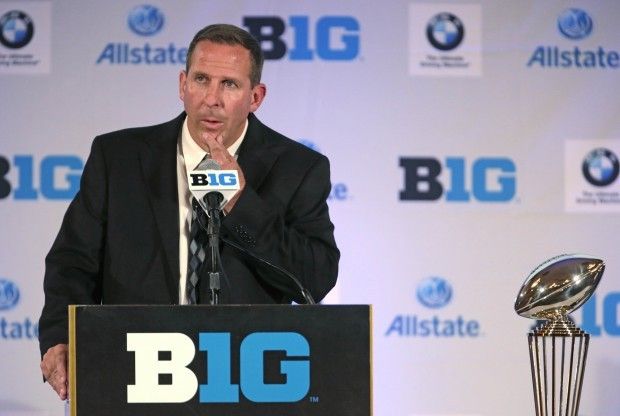 Nebraska head football coach Bo Pelini decided to make one of those inexplicable
comments
about the SEC hat could only come from a Big Ten coach who secretly wishes he was an SEC coach.
Bo Pelini: "The whole SEC isn't Alabama. There are a lot of teams in the SEC that would like to be Nebraska."
— Dan Wolken (@DanWolken) July 25, 2013
Really, this comment is full of Freudian reverse psychoanalysis that shouts "I am so jealous that Bret Bielema found a way to escape from the Big Ten Matrix and went down the rabbit hole to Arkansas and the SEC. Please, Morpheus Slive, give me one of your red pills."
But just for argument's sake, if Pelini right about SEC teams wanting to be Nebraska? There must be one, right?
Alabama
- The Crimson Tide has
86
15 national titles. Nebraska has three. 'Nuff said.
Georgia
- Who beat Nebraska in the Capital One Bowl this past New Years Day? Thought so. On the other hand, Bulldog HC Mark Richt is from Nebraska
grew up as a Husker fan
, thus should be probably the first name on the list when Pelini is fired
at the end of the season
if and when that happens. I'm not holding by breath that Richt bolts for Lincoln, though.
Tennessee
- Would still probably have done better than Nebraska did against Miami in the 2001 BCS title game.
Arkansas
- Joined the SEC when Nebraska and the rest of the old Southwest Conference joined the Big 12. That pretty much blows the idea of wanting to be Nebraska out of the water.
Texas A&M
- Johnny Manziel > Taylor Martinez. Next.
Mississippi State
- Let's see...Mississippi St. was beaten by Northwestern in the Gator Bowl, who was beaten by Nebraska in the regular season...nah, even that one's a stretch.
Missouri
- Probably had enough of Nebraska in the Big 12.
Florida
- Lost to Nebraska in the 1996 Fiesta Bowl, and lost the national title with it. Would still not trade two BCS titles in the Aughts to be Nebraska. Also, Nebraska has a history of criminal behavior among players that overshadows the Gators even with Aaron Hernandez.
South Carolina
- Would you rather have Pelini or Steve Spurrier as you HC? Thought so.
LSU
- Tiger Stadium vs. Memorial Stadium? Death Valley wins.
Kentucky
- Nebraska has basketball?
Auburn
- Nah.
Ole Miss
- Would reject to being Nebraska for the Archie and Eli Manning connection.
Vanderbilt
- Probably should, but the SEC has the better TV deal.
(via
College Spun
)