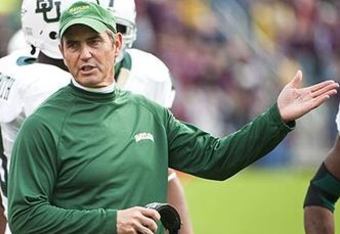 Art Briles with Lennay Kekua.
Baylor head football Art Briles is a smart man. Earlier in the week, Ryan Russilo of ESPN's SVP & Rusillo show
asked Briles
if he wanted to "take this time now and maybe say something negative about the SEC to get that thing stoked up again?" like Oklahoma HC Bob Stoops did earlier this year.
Briles gracefully declined, saying ""I don't know how you could. I mean I learned a long time ago, the only guy that remembers second place is the one that got it." He also added that the SEC had "a great job. They put they're brand on the table, and they've walked away with all the chips. What can you say? Until someone beats them, that's the way it's going to be."
It's too bad Bob Stoops can't be as smart as Briles is.
(via
al.com
)